Background: Radical Sheep Productions was a Canadian children's television series production company. Radical Sheep's most popular production is The Big Comfy Couch. Founded in 1985, the company also once housed the "Sheep Shop", which provided puppet construction and design services until 2003 when it closed its doors
1st Logo
Edit
(1997-2005)
Logo: On a Blue/Black Background, We have the words "RADICAL SHEEP" Below it, "Radical Sheep Productions" In red font is Written
Trivia: On 1 Episode of the Big Comfy Couch and all of Make Way for Zoboo, During The "Bah" Noise, Molly (Loonette's doll) Pops Up On The Bottom Right Corner of The Screen.
On Early Episodes's From 1992-1997, There Is No Fading.
Seen On:
Seen On Early Episodes of The Big Comfy Couch From 1992-1996 Along With Panda Bear Daycare, Ruffus The Dog and Amigo & Me
Music/Sounds: a Music Box Version of Mary Had a Little Lamb is Heard and a Sheep Bleating Followed. But on Early Episodes From 1997, The Audio Is Silent.
NOTE: The Molly Variant is RARE! to find Since it only appeared on 1 Episode.
2nd Logo
Edit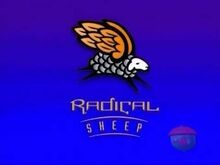 (2005-2012)
Logo: On a Blue/White Background. We see a Grey Sheep With Orange Wings In The Background and The Text "RADICAL SHEEP" Written "RADICAL" Is Like Curved Words and "SHEEP" Is Normal Text.
Music/Sounds: Same As The 1st Logo
Seen On:
Seen On The Big Comfy Couch Along With Land O' Hands
NOTE: The "Bah" Noise Might Startle People.